125 episodes of "Neighbours" initially directing Kylie Minogue, Jason Donovan & Guy Pierce

... plus

L

ead Director on "Murder Call"

for Channel 9. Also

"Law of the Land" & "Chances"

26

Episodes of Blue Heelers and also "Home & Away" "All Saints" & "Skirts" for Channel 7

22 episodes of "A Country Practice" including the landmark 800th Episode

9 different series – 23 hours of drama including 'MDA' (nominated for an EMI - best series)
Imdb profile here
---
TV PRESENTERS WORKSHOP
The most professional and practical approach to the TV Presenting skills - a powerful 6 week course (Saturday afternoons).
---
WEDNESDAY DROP-IN ACTING CLASSES (10am - 2pm)
START 15th February 2017 - (8 weeks)
PAY BY THE HOUR - $25 per hour ........... or you can just audit the entire session for $20.
If you are available on a weekday these Wednesday drop-in classes are perfect for you. From 10am to 2pm for 8 weeks. Bring your own scene or find one in The Rehearsal Room folders.
| | |
| --- | --- |
| MARIE WERRETT: | "Every class brings something new and exciting" |
| DAVID BERGIN: | "This is the place to keep building real acting skills. I just keep coming back." |
| KATRINA GOW: | "I actually feel that I did one of my best auditions ever. I think I delivered a character that they hadn't seen to that point" |
---
NEXT TERM of Evening Acting Workshops
January 2017
Thoroughly tested, clear and simple processes that REALLY WORK.
Introductory Workshop

Starts Tuesday 18th April 7.00pm to 9.30pm


Intermediate Workshop
(ex-Advanced)
Starts Thursday 19th April 7.00pm to 9.30pm
… for details
Advanced Workshop for EXPERIENCED Actors

Starts Wednesday 25th January

7.00pm to 9.30pm

... for details

MASTER CLASS

Starts Monday 24th April 7.00pm to 9.30pm
... for details
AUDITION WORKSHOP SPECIAL
CLICK HERE to sign up for the eNewsletter.

There's a briefing session at the beginning and end of each session - a chance to ask questions

END OF YEAR SPECIAL WORKSHOP TWO


Thea McLeod (Neighbours) Sessions on Saturday 10th December 9am - 1pm and Monday 19th January 6.30pm - 9.30pm.

CLICK HERE to ENROL for this workshop.

Audition Workshops are advertised FIRST in the eNewsletter - then the details are placed on the website. MAKE SURE YOU ARE ON THE MAILING LIST TO BE FIRST TO KNOW. You can place yourself on the list for the eNewsletter by clicking here.

For details of Audition Workshops go here
---
"DELIVERING THE STORY"
4 Sunday afternoons
An acting workshop EVERY ACTOR should do. Explore scenes within the context of an entire screenplay.
WORK WITH GUEST DIRECTOR
Is your character serving the story?
Are you delivering the story you intended?
How easily can you serve a different story goal?
How do you work out what the point of the story should be?
AND ... much more
Throughout the modern history of acting TEACHERS HAVE NOT TAUGHT ACTORS HOW TO DELIVER A STORY.
This is the place you can learn to.

THE NEXT OPPORTUNITY ... T.B.A for 2017... 2pm to 6pm



UNDERSTAND STORY TELLING AND YOU UNDERSTAND THE ACTOR'S JOB
SKILL BUILDER for TV Presenters

a ONE-DAY Workshop

ONLY FOUR PLACES AVAILABLE
---
One Week

SUMMER INTENSIVE

TV PRESENTING Workshop

5 DAYS learning techniques that equip you to communicate in life.

AN INSPIRED BALANCE OF THEORY AND PRACTICE

Monday 2nd to 6th January 2017

Challenging but FUN!!

Common sense techniques producing excellent results
---
One Week

SUMMER ACTING INTENSIVE

FIVE brilliant sessions exploring this uniquely practical process.

MONDAY to FRIDAY

AN EXPERIENCE THAT WILL CHANGE YOUR VIEW OF ACTING FOR EVER

Monday 9th to 13th January 2017

Exciting, fresh and very practical!!!

DAVE THORNTON - Recording his final exercise
---
I have learnt more usable acting techniques at the Rehearsal Room after just 3 classes than any acting classes I have ever done! Once you understand these important key concepts, your acting feels real, much more natural and fun!
A few years ago I went to LA and did an 8 week intensive and recently did a short course with NIDA. I have done many acting courses but none as good as this.

Richard gives you specific, measurable techniques that really work and are the foundation of what good acting is based on.



- Alanna Salt, July 2015
---
Professional Voice Over Workshop
6 sessions on Monday evenings

BUILDS PROFESSIONAL SKILLS
THE NEXT OPPORTUNITY ...
COMMENCES MONDAY T.B.A 2016 (Check here for all the dates)
MONOLOGUE WORKSHOP
THERE ISN'T AN APPROACH TO MONOLOGUE PERFORMANCE THAT IS MORE EFFECIENT AND MORE EFFECTIVE

Uniquely simple and HIGHLY effective - Dates TBA. CLICK HERE FOR MORE …
---
How Good Is It?
Actors from The Rehearsal Room explain what works for them. These very informative comments will help you decide whether this is the place you want to be.

Actors who have been attending for years and actors who are just starting out explore what they see is the real value of The Rehearsal Room classes.
"The Rehearsal Room not only gave me presenting skills and built my confidence but also gave me valuable life skills. I learnt more about creating a story in six sessions than I did in a three year English language and Media degree."

–

Lianne Collinson,

December 2012
---
'SECRETS OF THE AUDITION ROOM'
NEXT CHANCE in 2017 T.B.A
4-hour session WAS $105 NOW ONLY $40
60% DISCOUNT
GAIN A CLEAR UNDERSTANDING of REHEARSAL ROOM AUDITION TECHNIQUE in one excellent session.
NEVER DONE AN AUDITION BEFORE? Come and give it a try. Discover the essential skills.
WANT TO IMPROVE YOUR AUDITION SKILL? One four hour session could change everything. A great way to explore these fantastic practical techniques.
"I loved your commonsense approach and felt really confident and prepared for my audition … THANK YOU."
Esther Anderson (Home and Away) April 2012
---
One-Day Workshop for SECONDARY SCHOOLS
A brilliant workshop that explains with great clarity Stanislavski theory and techniques to achieve realism.
Based on screen acting techniques but just as applicable to theatre productions this is
WONDERFULLY ENGAGING
OUTSTANDINGLY INFORMATIVE
AMAZINGLY PRACTICAL
TOTALLY UNIQUE
"The industry based nature of The Rehearsal Room method from Introductory through to MASTER CLASS has built in me a proficiency that I didn't realise I had acquired until I stepped onto a professional set." – Karla Francisco, June 2011
click here to read all Karla's email
ACTING COACHING ON-LINE using 'Skype' - FOR MORE INFO - you could have your lesson NOW!

ENROL NOW!
---

"I actually feel I did one of my best auditions ever" - KATRINA;
"I'm … able to push things much further than I ever dreamed was possible" - WESLEY;
"On every occasion the roles are entirely different and I never feel nervous" - MARDI;
"I'm taking that piece of advice into everything I do" - DAVE;
"Your techniques and your teaching are what keep me going" - BELINDA
For all their stories click here.
---
---
The range of workshops available are listed below. If you wish to express an interest in attending any workshop, email early to guarantee a place.
ALL workshop sizes are set at a maximum of 8 participants.
The classes are in five formats:
Weekend Workshops (4 hours) Acting and TV Presenting;
Evening Acting Classes and MASTER CLASSES (2.5 hours);
SUNDAY MASTER CLASSES (4 hours) - 'Delivering the Story';
Weekday Acting Classes 10am - 2pm;
Audition Workshops (Saturday mornings & Friday eveninings)
5 Day Holiday Intensives.
CLICK HERE to check the workshops terms and conditions.
Read previous and current student testimonials by CLICKING HERE
---
Choose the workshop that interests you from the list below: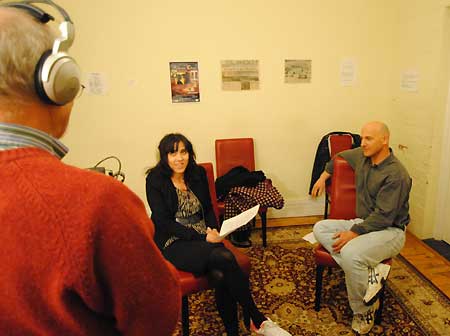 MASTER CLASS actors VAL DUTHIL & GARY
IANNELLO prepare to shoot their scene (June 2010)
---
INTRO | ABOUT | WORKSHOPS & CLASSES | TESTIMONIALS | LATEST NEWS | WORKING ACTOR
GREENROOM | DIRECTOR'S NOTES | QUOTARIUM | DIARY | OFF-CUTS | AUDITIONS | CONTACT

---
All contents copyright © The Rehearsal Room unless othewise stated | Designed by Salmac
Maintained by The Rehearsal Room