"Rhyme and Reason" - a feature film which displays the skills of 42 Rehearsal Room actors.
Audition Workshop Round 2 (2013)
THIS VERY POPULAR WORKSHOP is now full. Casting Directors ALISON TELFORD (ABC) and ANDREW THOMPSON ('Winners and Losers') have agreed to do an extra session on Friday night and there are still TEN ACTORS who didn't get a place in this workshop.
ARE YOU ON THE EMAIL LIST? That way you will be the first to know about the Round Three Audition Workshop. BOOK EARLY.
---
SUNDAY ACTING CLASSES in 2013 (term 2)
| | | | | | |
| --- | --- | --- | --- | --- | --- |
| | Introductory Workshop | Starts Sunday 19th May 9.00am to 1.00m | … for details | | |
| | Advanced Workshop | Starts Sunday 19th May 2.00pm to 6.00pm | … for details | | |
| | | | | | |
| | | 6 week term | | | |
---
THURSDAY ACTING CLASSES (10am - 2pm) START 16th MAY
If you are available on a weekday these Thursday classes are perfect for you. From 10am to 2pm for 6 weeks.
You can explore a uniquely practical process that creates efficient, flexible and consistent actors. FOR MORE ...
---
Professional Voice Over Workshop

There are 4 sessions in a professional recording studio.

6 sessions in total

IT'S A GREAT EXPERIENCE

Members of the last four classes have reported getting professional voice over work!!!"
---
AUDITION 'SELF TESTING'

ARE YOU LOOKING FOR SOMEWHERE TO RECORD YOUR AUDITION TO SEND INTERSTATE OR TO THE U.S.A.


You won't find better support or more experience than at The Rehearsal Room. CLICK HERE FOR MORE …
---
'SECRETS OF THE AUDITION ROOM'
NEXT CHANCE T.B.A.
GAIN A CLEAR UNDERSTANDING of REHEARSAL ROOM AUDITION TECHNIQUE in one excellent session.
NEVER DONE AN AUDITION BEFORE? Come and give it a try. Discover the essential skills.
WANT TO IMPROVE YOUR AUDITION SKILL? One four hour session could change everything. A great way to explore these fantastic practical techniques.
---
TV Presenters Workshop

6 sessions on Saturday afternoons

IT BUILDS REAL SKILLS
"The Rehearsal Room not only gave me presenting skills and built my confidence but also gave me valuable life skills. I learnt more about creating a story in six sessions than I did in a three year English language and Media degree."

–

Lianne Collinson,

December 2012
---
SUNDAY "DELIVERING THE STORY" WORKSHOP
Richard Sarell

A fabulously efficient processes for resolving the choices actors find hardest to make.

A Sunday Workshop best suited to actors with some experience. The aim is to build skills at quickly and successfully deciding on an approach to the story for a scene. THIS IS AN INTENSIVE 4 week course from 2pm to 6pm.

In the final session work with a guest director.
---
EVENING ACTING CLASSES in 2013 (3rd term)
| | | | | | |
| --- | --- | --- | --- | --- | --- |
| | Introductory Workshop | Starts Wednesday 10th July 7.00pm to 9.30pm | … for details | | |
| | Advanced Workshop | Starts Tuesday 9th July 7.00pm to 9.30pm | … for details | | |
"I NEVER LOOK FOR EXCELLENCE, MATE - BUT I SEEM TO BE GETTING IT. LOVE YOUR WORK" – Giovanni Bartuccio, May 2012
---
"I loved your commonsense approach and felt really confident and prepared for my audition … THANK YOU."
Esther Anderson (Home and Away) April 2012
---
One-Day Workshop for SECONDARY SCHOOLS
A brilliant workshop that explains with great clarity Stanislavski theory and techniques to achieve realism.
Based on screen acting techniques but just as applicable to theatre productions this is
WONDERFULLY ENGAGING
OUTSTANDINGLY INFORMATIVE
AMAZING PRACTICAL
TOTALLY UNIQUE
"The industry based nature of The Rehearsal Room method from Introductory through to MASTER CLASS has built in me a proficiency that I didn't realise I had acquired until I stepped onto a professional set." – Karla Francisco, June 2011
click here to read all Karla's email
ACTING COACHING ON-LINE using 'Skype' - FOR MORE INFO - you could have your lesson NOW!

ENROL NOW!
---
The range of workshops available are listed below. If you wish to express an interest in attending any workshop, email early to guarantee a place.
ALL workshop sizes are set at a maximum of 8 participants.
The classes are in five formats:
Weekend Workshops (4 hours) Acting and TV Presenting;
Evening Acting Classes and MASTER CLASSES (2.5 hours);
SUNDAY MASTER CLASSES (4 hours) - 'Delivering the Story';
Weekday Acting Classes 10am - 2pm;
Audition Workshops (Saturday mornings & Friday eveninings)
5 Day Holiday Intensives.
CLICK HERE to check the workshops terms and conditions.
Read previous and current student testimonials by CLICKING HERE
---
Choose the workshop that interests you from the list below: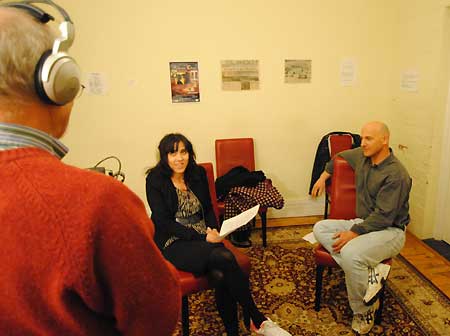 MASTER CLASS actors VAL DUTHIL & GARY
IANNELLO prepare to shoot their scene (June 2010)
---
INTRO | ABOUT | WORKSHOPS & CLASSES | TESTIMONIALS | LATEST NEWS | WORKING ACTOR
GREENROOM | DIRECTOR'S NOTES | QUOTARIUM | DIARY | OFF-CUTS | AUDITIONS | CONTACT

---
All contents copyright © The Rehearsal Room unless othewise stated | Designed by Salmac
Maintained by The Rehearsal Room