16th September 2005
Actors Contribute to Rehearsal Room Process
The growth in understanding about how the acting process works is ongoing. The Rehearsal Room has focused its attention on finding simple concepts and testing their effectiveness and reliability in consistently producing good performances. One of the clear trademarks of Rehearsal Room workshops is consistency of performance standards and a continual growth of skill levels.
One reason for this is the continual contributions actors make to our growing understanding. Some actor contributions include –
"The Andrea Carbone Syndrome" – an understanding of the value of uncertainty of impulse.
"The Darren Mort Analogy" – a clear overview of the actors role described in a sporting analogy.
"Jules Lund Mechanism" – the value of a shifting centre of gravity in moments of surprise.

Now PAUL LAVERACK has contributed an extensive list of adverbs. (CLICK HERE) Another aid to active performance outcomes from a Rehearsal Room actor. Thanks Paul.

Audition Success
As in any occupation, actors who set simple goals move forward positively from one achievement to the next.
ELISA HASTINGS wrote:- "Just after your course I auditioned for a short student film and got it, so I'm much more confident in auditions now."
After getting a small part in "Nightmares and Dreamscapes: from the stories of Stephen King" (currently at Docklands Studios) SHARON FENECH wrote:- "Had another audition yesterday for a bank corporate video, and felt so confident and good, as soon as I put process in action. If I don't get it I won't fret, because I know I did fine."
That's the way to keep moving forward.
MURRAY HUTCHINSON DIES

MURRAY HUTCHINSON, who provided the inspiration that started The Rehearsal Room view of acting process, died in Auckland this week after a long illness. Murray was a remarkable man – a designer, an actor, a director, a writer and in his last months a painter. He was also a friend and mentor to many. Regarded with great affection by all his students Murray was a great teacher. His passion for performance and story will not be lost for it lives on in all those who had contact with him and were touched by his enthusiasm for life and art.
TV Presenters Go Ahead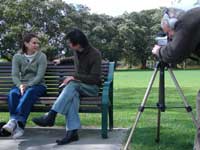 A NEW and exciting workshop for TV Presenters is now enrolling at The Rehearsal Room. This Level Two TV Presenters Workshop provides the opportunity to work for an actual client who has a particular issue they want realized on DVD.
The presenters will liaise with the client, researching the material, creating the script/concept and recording the interviews for the segment. They will also write and record the voice over and do any on-camera presenting that's required. The completed production will be ideal as material to include on a show reel.
If the client approves the final product and therefore decides to buy it the presenter could recoup up to 30% of the course fees.
| | |
| --- | --- |
| INTERVIEWS BEING SHOT FOR FINAL EXERCISE IN TV PRESENTERS WORKSHOP | PRESENTER WORKSHOP ON LOCATION. |
The workshop has been specifically designed for presenters who have completed the Level One TV Presenters Course but others may be accepted after audition. FOR DETAILS.
NEXT TERM DATES
TV Presenters Level One – commences Sunday 6th November (7 weeks)
TV Presenters Level Two – commences Sunday 16th October
Evening Workshops
Introductory – commences Monday 26th September
Advanced – commences Wednesday 28th September
Advanced Level Two – commences Thursday 29th September
MASTER CLASS – commences Tuesday 27th September
Weekend Workshops
Introductory – commences Saturday 12th November
Advanced – commences Sunday 16th October
---
< BACK
---
INTRO | ABOUT | WORKSHOPS & CLASSES | TESTIMONIALS | LATEST NEWS | WORKING ACTOR
GREENROOM | DIRECTOR'S NOTES | QUOTARIUM | DIARY | OFF-CUTS | AUDITIONS | CONTACT

---
All contents copyright © The Rehearsal Room unless othewise stated