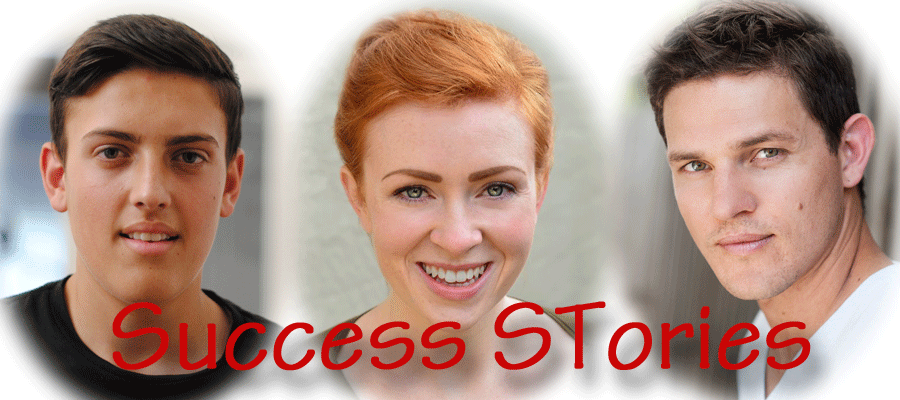 By Richard Sarell | News
Fiona Banks is a busy director. With recent credits on The Dr Blake Mysteries, House Husbands and Winners and Losers she regularly runs sessions for The Rehearsal Room's MASTER CLASS actors. This week she told The Rehearsal Room how pleased she was with JESSICA STANLEY'S performance in the final episode of The Dr Blake Mysteries (Series 5). The series has not yet been scheduled but Fiona said, "Jessica is going to be very pleased with her work." Fiona is excited about this performance. So is JESSICA.
Congratulations, JESSICA.
INTERNATIONAL SUCCESS
Actor WESLEY FORKE is achieving international recognition at film festivals for his outstanding performance in "Degree of Separation" as is KYAHL ANDERSON the director of this 14-minute film. It's most recent review from the Stonefair Festival in Romania gives high praise to the film's performances which is the story of Troy played by WESLEY. The Stonefair reviewer writes, "The delivery of the simple yet powerful message is substantially aided by the outstanding performances of all actors involved, and especially by Wesley Forke as Troy and Arta Mucaj as Virianna. The delivery of each line feels completely natural, while moments of silence and quiet contemplation are just as powerful insights into their personalities." According to this Stonefair review these performances have achieved the perfect balance between relationship and circumstance to deliver the "raw power" of this story's message.
"Degree of Separation" was produced by DARREN MORT.
MAKING A STRONG IMPRESSION
ELLMIR ASIPI has just completed his second term of classes at The Rehearsal Room and during the term shot his first professional gig in the ABC's new kids show "Mustangs FC".   ELLMIR is 16 and was originally booked for an 8-day shoot with a few lines on this new ABC show. His performance attracted attention because his part grew. By the end of the shoot he had been booked for a total of 20 days. That's every actor's dream … a promotion that occurs because the quality of your work is recognised.
He is plainly doing the job well. Congratulations, ELLMIR.