12th July 2005
WORK EXPERIENCE FOR TV PRESENTERS
The Rehearsal Room wants to make contact with more businesses, organizations or charities that might like to have a 5 – 10 minute DVD or video shot without cost. Thus far there has been a very strong response from interested organizations.
Without any financial commitment organizations can have a training video, work safety programme, product instructional video, promotional video or business report created on DVD or video. They can then preview the finished product, still without any financial commitment and decide if the video is of use. If the quality and content are satisfactory it can be purchased at a very reasonable price. There is absolutely no commitment to purchase the DVD. This is part of a Rehearsal Room proposal to develop a second training level for TV Presenters.
Opportunity Knocks
This is a great opportunity for organizations and businesses to trial and preview concepts and it's also a great opportunity for presenters to work on a real project and create something specific for their show reel. Contact The Rehearsal Room on 9824 4919 or email.

THE NEXT TV PRESENTERS WORKSHOP (Level One) will commence on Sunday 7th August for 7 weeks (9am – 1pm). Dates for the new workshop will be announced shortly. CLICK HERE FOR DETAILS
SUNDAY ADVANCED ACTING WORKSHOP commences Sunday 7th August (2pm - 6pm). CLICK HERE FOR DETAILS
THE JAPANESE EXPERIENCE

| | | |
| --- | --- | --- |
| | At least three Rehearsal Room actors have done 12-month stints in Japan's theme parks. HEIDI MENZE last participated in a Sunday Advanced Workshop in 2004 and not long afterwards signed a 12 month contract with Tokyo Disneyland. | |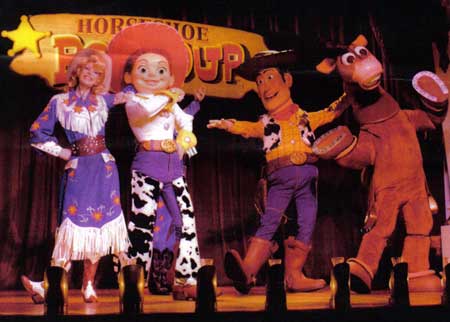 Whilst in Japan she was reading through The Rehearsal Room news page and came across a pic of RAELENE ISBESTER performing the same role she is now fulfilling at Tokyo Disneyland. This inspired HEIDI to send some pictures of her own. Heidi gives two performances a day, one of which is a lunchtime show that has been developed since here arrival.
"It was an amazing experience working on a project from scratch. Although it's not a highly in-depth character, it was great being a part of creating it," she wrote. HEIDI describes the lunchtime show as "A thigh slapping Disney, 'sung thru cowboy show'. It's a blast!" HEIDI will be returning home in October and is really looking forward to doing some more classes at The Rehearsal Room. "It's amazing how almost a year on I am just now understanding how much I learnt. I loved them so much and I gained so much confidence from them."
Paul O'Brien Workshop
With PAUL O'BRIEN on a 2-week production break from "Home and Away" The Rehearsal Room had a casual night of performance play. Seven other Melbourne actors joined PAUL with everyone participating in a two-handed scene plus a large group scene.
PAUL with BRENDA McKINTY

| | |
| --- | --- |
| The actors rehearsed and blocked their own moves in the 2-handers with all the choices being impulse driven while Richard blocked the group scene so that it could be shot simply in a one-shot-setup. Six scenes were shot on the night. It was an entertaining evening – both fun and informative for everyone. | DEAN KIRKRIGHT with PAUL |
| | |
| --- | --- |
| | PAUL and CAROLINE LLOYD |

Speaking about his first 5 weeks on "Home and Away" PAUL said he was still digesting the experience. It had been a pretty full on workload and learning lines had been his main priority. "Continuity is the biggest challenge," he said. "That seems to be the area where most people make mistakes when they first start on the show because the shoot happens so fast."
From left to right: CAROLINE LLOYD, DEAN KIRKRIGHT, DARREN MORT, ANNABEL PEMBERTON, PAUL O'BRIEN, BRENDA McKINTY, ALISON KELLY and JOHN BOLGER all participated in the night.
---
< BACK
---
INTRO | ABOUT | WORKSHOPS & CLASSES | TESTIMONIALS | LATEST NEWS | WORKING ACTOR
GREENROOM | DIRECTOR'S NOTES | QUOTARIUM | DIARY | OFF-CUTS | AUDITIONS | CONTACT

---
All contents copyright © The Rehearsal Room unless othewise stated

| | | |
| --- | --- | --- |
| | --- | |
| | | |