AUDITION POSTINGS
The Rehearsal Room is now only accepting auditions for Victorian Productions.
If you wish to post an audition - email the details to contact@rehearsalroom.com (you can no longer post them yourself).
MAKE SURE you include all your contact details.
However, any attached images may be included if they are submitted as jpg files – this includes posters or logos.
Production Title:

'THE GREATEST MAN WHO EVER LIVED'

Production Type:

Short Film

Synopsis:

Set in August 1969. Two 14 year old best friends Ry and Dusty emulate the heroic astronaughts of Apollo 11 by attempting daredevil feats for money and lasting fame within their small Victorian coal mining town.

The film is intended to be made in the tradition of classics like Stand By Me and The Sandlot.

Producer:

Stephanie Phillips

Director:

Rhys Mitchell and Joshua Dawson

Production Company:

Shaw Thing Films

Location:

Audition Location: Exit Films South MelbourneShooting Location: Daylesford, Victoria

Dates:

Audition Dates: TBD
Shooting Dates: September 21st- 28th 2012

Final Date for Submissions:

15 August 2012 05:00
AUSTIN: Male Aged 35 - 45 Austin is Dusty's father, a WW2 fighter pilot, now the manager of the town's coal mine, seen when Dusty and Ry sneak into the town pub. He hands over the beer for the boys to sip when Bull enters and pulls his son outside. We see the same optimism as Dusty and also the support and encouragement he gives his son, in contrast to Ry's father.
Bull: Male aged 35 – 50 is Ry's father, a recently retrenched coal miner who deeply disapproves of his son's behavior and his best friend Dusty. He tries to keep the best friends apart, but to no avail. At the end of the film, Bull shows his more vulnerable side by admitting his concerns for his son's safety and future.
Charlie: Aged 11 is dirt poor and follows Ry and Dusty around like a puppy dog because they are his heros. They are the first people to treat him with any real respect and take care and responsibility of him like fathers.
Dusty: Aged 14 is charismatic, outgoing, gutsy and a born daredevil. The kind of person you know is destined for greatness because they will not admit the constraints of the world or the odds against them. He supports his best friend Ry, but also gets him into trouble. His fearlessness and strongly held belief that he is unable to die because he is destined to be 'The Greatest Man In The World' almost leads to his death, but by miracle he survives.
Ry: Male 12 – 16 is shy and practical. He hopes to escape the confines of his small town and his bullying father. He suffers from a debilitating fear of heights and always takes a back seat to his best friend Dusty. Ry begins the film suffering a debilitating fear of heights and always taking a backseat to his best friend Dusty but in the final moments of the film, chooses to overcome his fears and doubts and to save the life of his best friend, finding the hero within.
Shooter: Aged 14 is jealous of Ry and Dusty's deep friendship and popularity within his small town and has found his place as the town bully. At the end of the film he challenges Dusty to a final dare which almost kills him. Faced with the repercussions of his actions it is certain that he undergoes a significant change at the end of the film for the better.
Sue: 30 – 45 she is Ry's mother. She provides Ry with support and encourages him to ignore his father and do what his heart tells him. Telling her son, that he never let anybody tell him what to do when he was young, and he should stay that way when he is older.
Woody: A tombish girl (12 – 16) who arranges and organised the daredevil feats for Ry and Dusty. At the end of the film, she performs the life saving miracle that will ensure Dusty lives after his final dare.
YOUNG TV PRESENTERS NEEDED
At Jacaranda, we create imaginative digital resources that empower teachers to transform their teaching practices in ways that will engage, enrich and improve educational outcomes for the 21st century learner.
What's the gist and what will you be doing?
We're producing a number of short live-action educational video series over the course of the next 12 to 18 months for the secondary school market. Think English, Geography and History…BUT fun!
We are looking for a team of young, enthusiastic, and a little bit crazy, presenters to host these series!
We will be shooting both in a green screen studio environment where you will present to camera using a teleprompter and out on location where you will interview professionals in society and engage in fun activities on camera.
Who are we looking for?
We need 4 to 6 dynamos to make their mark in these exciting new series and become the new faces of Jacaranda! Each role is paid and for a set number of hours, however for series continuity, you must be available for the whole duration of the production of each series.
You should be:
· 16 - 21 years old and based in Melbourne
· Extremely confident and experienced in front of the camera
· Fun-loving, positive and genuinely enthusiastic.
· Always been told you're "a bit out there" and know how to tell a good story
· A bit of a joker and good at making people laugh
iI'm keein - what do I do next
Send us your headshot and a link to your show reel with your covering letter to meredith.donaldson@wiley.com
Applications close 20 February 2012.
Troy Bullock
Digital Publisher
JACARANDA
John Wiley & Sons Australia, Ltd
155 Cremorne Street
RICHMOND, VIC 3121
T: +61 (0)3 9274 3275
F: +61 (0)3 9274 3101
M: +61 (0)433 024 775
PLAY IN A DAY
Applications to participate in Melbourne's 6th annual Play In A Day event are now open.
This raw, exciting, challenging and totally fun event accepts applications from professional and community theatre folks all over Melbourne who wish to apply to be a Director, Playwright or Actor in one of the six 10 minute plays which will be devised, written, directed, rehearsed and performed all within 24 hours.
Applications close 29 January, 2012. Strictly limited to 42 positions. Apply today at http://www.playinaday.org.au
Enquiries: info@playinday.org.au or call Keith Hutton on 0430 032 332.
THE EVENT is at …
Community Theatre, Doncaster Secondary College, 123 Church Street, Doncaster.
Sat 25 February 2012 8:00pm
Play In A Day is innovative theatre, where the audience gets to enjoy six short 10 minute performances which were devised, written, directed and rehearsed all within 24 hours. It's raw, exciting, challenging, nerve-racking and, above all, tons of FUN for everyone. Come and join.
Tickets 1300 650 209 or at the door on the night. All seats $15.
More information, visit http://www.playinaday.org.au
22 November 2011
SUPERHERO TV SHOW
Show premise: A country boy moonlights as a superhero, while struggling with his developing dependence on the drugs behind his newfound abilities.
This half-hour drama follows Ryan, new to the city and completely unfamiliar with drug culture. After accidentally taking a party drug, he temporarily gains super-strength, super-speed, and super-senses...which he uses to combat the drug dealers of Melbourne.
The role being auditioned is Michelle, his best friend and only confidante. Michelle is a party girl, working in the same call-centre as Ryan and training to be a nurse. Michelle introduces Ryan to her dealer (and ex) and over the course of the series, a love triangle starts to develop.
The successful applicant will be 18-25, bubbly and friendly, and comfortable with potentially dark subject matter.
The pilot will be shot in Melbourne in January, and released online to raise funding for a full season to be shot later in the year. The season will be distributed both online and on Channel 31, and is a great opportunity to be seen locally, nationally and world-wide, and will be a valuable addition to any showreel or cv.
Actors out-of-pocket expenses will be covered, and food will be provided on set. Filming will take place in early January.
If you're interested in being involved in the project, please email subconscious.ben@gmail.com with your best contact phone number, your CV and headshot, and a paragraph addressing the following:
"Why would Michelle, popular and happy, training to be a nurse, take recreational drugs?"
We look forward to hearing from you.
-Peter C. Hayward and Ben Smith,
BRAINSTORM AUDITIONS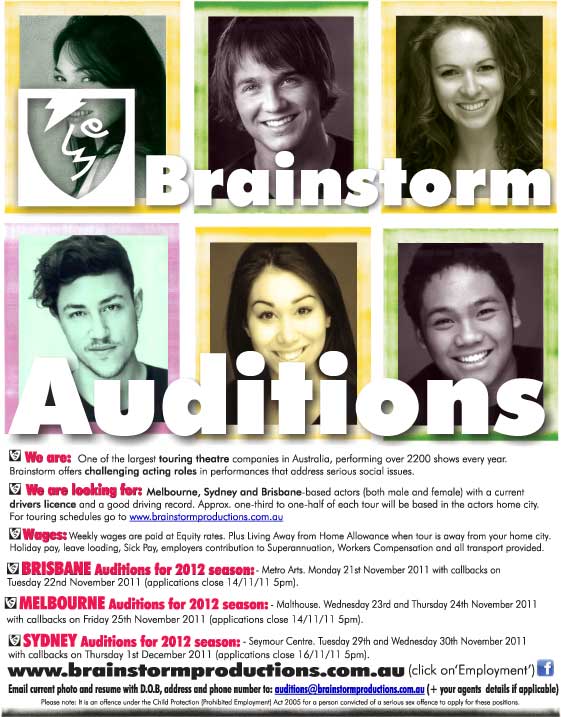 Email for Brainstorm: auditions@brainstormproductions.com.au Website for Brainstorm:
www.brainstormproductions.com.au
VCA POST GRADUATE STUDENT FILM
Actors and extra required for short film set in the late 1940s in a billiards hall.
Wall Flower is an 8 min film to be shot on 16mm on location in Melbourne.
It is a low budget student film that will be well catered and professionally run.
Synopsis:
In the aftermath of WW2, Jeanie a talented but solitary teenage girl struggles to find a place to belong. Living above the hotel she works in, her daily life is suffocated with an endless list of chores. She has a secret ambition to play snooker in the exclusively male world in the public bar of the hotel. Her opportunity arises out of a challenge designed to intimidate her. Jeanie must decide if she will take the risk, and step up to the challenge. Or retreat to the safety of the kitchen and her world of domestic chores.
Extras:
We are on the hunt for extras to fill out the world of the late 1940s pool hall/hotel scene. If you can play pool, that would be a plus, but not necessary. The environment is working class, so I'm imagining a motley crew of tough looking battlers, all shapes sizes and ages.
Ages 18 - 60ish.
There are some minor speaking roles available also, for characters in these scenes.
Shoot dates are 22, 23, 24 Sept. You may not be required on set for the entire 3 days, it is most likely that you will be required for 1 days work only.
For more information, or a copy of the script please contact Sophia Di Venuto - stryx7@yahoo.com
"Melvin Out of Water".
7 minute short film
Swinburne University of Technology
final major graduate
A quirky tale about a middle-aged man Frank, who catches a fish and keeps it in order to replace the lost connection from his teenage son after the death of his wife a year ago.
Two major roles - Frank and Jack.
Character Profiles
FRANK: A middle-aged man who enjoys fishing because it takes him away from the busy city. He is a widower since a year ago. Frank is currently working long hours at an insurance company as an underwriter. Should be aged between 39 to 54.
JACK: A teenager who can be very quiet and introverted at times. More so now since the death of his mum last year. Jack likes to speak his mind. His father's obsession with a pet fish is making him feel more isolated. In Jack's bedroom is where he feels most in control and at peace.
Should be aged between 12 to 18.
As this is a student project it will be an unpaid job but in no way less professional, we are dedicated and determined.
Shooting dates are set for the 26th of September, 1st of October and 8th of October.
Joel Spencer (Director) 0434 149 128 & Suzanne Sganga (Producer) 0417 578 805
Short Film 'Intervention'
This is a final year film at Deakin Uni.
"When a husband with a secret chooses not to confide in those he loves, will everything end in tragedy?
Mark has it all, a loving family, a nice house and a comfortable life. He also has a secret. Behind closed doors he injects himself - unbeknown to those he loves. Will Mark's life be thrown into chaos after his young daughter unintentionally stumbles on his biggest secret?"
We're looking to cast the following roles (all Caucasian):
Mark
Mark is a loving father in his late 20s. He adores his family, and so, finds it painfully difficult to keep his secret from them. He does it because he cares for them and fears the effect the truth will have on both his wife and young daughter.
Males, aged 23 to 33
Sarah
Sarah is Mark's wife, loving and supportive of both Mark and their young daughter Amy.
Females, aged 23 to 30
Daniel
Daniel is Mark's brother. He's laid back and tends to joke around.
Males, aged 23 to 33
Amy
Mark and Sarah's enthusiastic young daughter.
Females, aged 4 to 7 (must be accompanied by a parent/guardian)
Auditions are scheduled for this Monday 22nd August from 4pm and Tuesday 22nd from 4.30pm (both until 8pm) in Burwood, Melbourne
Filming dates: Friday 9th, Saturday 10th, Sunday 11th September (daytime filming), Melbourne
The job is unpaid, however
- We can provide transportation if actors require assistance.
- All actors will receive a copy of the film for show reel
- Film will be screened at Deakin University showcase and forwarded to appropriate short film festivals
We're also going to be working with RED Epic cameras! Deakin is the only educational institution in the world with this technology and only 3 Hollywood films have been released using the Epic so far. It's the latest technology available in the film industry and the images we have worked on so far are stunning! We are very excited and it will give your actors a chance to become acquainted with the new system of production quickly taking over the professional industry.
Actors who are available for the shooting dates and are interested in roles should email me at glt@deakin.edu.au their resume/headshot and a video if available. They can also call me on 0431 703 308 to discuss further.
Georgie Thomas
HOLLOW MEN
VCA Postgraduate Short Film
CASTING CALL
'Hollow Men' explores the emotional negotiation of a one-night stand between two men. Both men want the same thing, long for the same connection, but struggle against their own insecurities and socialisation to find it. The film aims to be a contemporary snapshot of where Aussie gay men are on the issue of single-serve love and their desire for more.
The film is suited to brave actors who are looking to push boundaries. The challenging content calls for actors to explore emotional and physical intimacy. Nudity in the role is not essential but open for discussion.
The shoot is currently scheduled to take place over two nights: Friday the 2nd and Saturday the 3rd of September in inner northern Melbourne. The film will be shot on 16mm film and will be 7 minutes in length.
We are able to offer our cast deferred payment for the production. It will be a professional and enjoyable experience for everyone involved, and our cast will be extremely well looked after.
The film is well-placed to feature in niche film festivals around the world.
OWEN:
Male, Mid to Late 20s
Skinny, not conventionally good-looking, yet still attractive.
Owen has a piercing intensity. He is vivacious and strong with a bold personality. His boldness, however, guards his more vulnerable and overly-sensitive side.
DAVID:
Male, Early to Mid 30s
A worn hipster. David has dark features, a scruffy unshaven face, and a generally untidy appearance. He used to be in shape but is beginning to put on weight. Despite this, he is still appealing and has a very sharp charm. David is unafraid of his vulnerability and appears to be soft and romantic despite his masculine appearance. He is unafraid of physical intimacy.
Please contact Producer, Alexander Edwards with an expression of interest and you will be sent further information regarding the film along with a suitable audition time.
Casting call ends 8th August, 2011.
Alexander Edwards
e. alexander@randommoment.com.au
p. 0423 141 935
ACTORS REQUIRED
I am running one of my very successful Short+Sweet Ten Minute PlayWriting workshops this weekend in Melbourne at Chapel Off Chapel in Prahan - http://chapeloffchapel.com.au/melbourne-comedy-theatre-art/melbourne-events/shortsweet-playwrighting-course/
VOLUNTEER ACTORS are required SUNDAY, JULY 31ST at Chapel Off Chapel, 12 Little Chapel St (just off Chapel St) in Prahran, from 10am to 6pm to help workshop and read plays written in the course.
Work on some great new plays with the writer and other actors - and then finish the day by performimg the plays in front of an invited audience as moved play readings.
If you are available please email me on abroun@bigpond.net.au giving me your age and whether you are male or female.
Independent Theatre
Tony Reck is a writer-director who works out of Melbourne, Victoria.
He runs a small company that specialises in creating contemporary performance - other material can be viewed at http://www.tonyreck.blogspot.com
Currently auditioning for a production that opens September 2011.
2 male & 2 female actors are required - age and appearance are open at this stage (this will depend upon a balanced final casting of the performers who respond)
Payment will be profit share.
Click here for details of the performance
Any further queries, please contact me at this address tonyreck2010@gmail.com
Tony Reck
Universal Studios Japan
Universal Studios Japan is returning to Melbourne and is looking for excellent talent to join our winning team.
Universal Studios Japan is casting for Singers who can move well, Dancers who sing well, Face Character/Actors and Stunt performers for their theme park in Osaka. Please find below a list of role descriptions and current productions including the many Atmosphere stage shows that change year to year to keep on trend, Universal Monsters Live Rock and Roll Show and WaterWorld to name a few.
Please note that auditions are by appointment only and all applicants must be at least 18 years of age at the time of audition. Interested performers should go to the official audition website of Universal Studios Japan to view further show & audition details and in order to register for an audition time. Go to www.universalauditions.com/japan to complete the artist audition registration form. They will not be required to submit their resumes or photos at this point.
Successful applicants will be offered employment at Universal Studios Japan in Osaka, commencing in early 2012. If you require additional assistance, please feel free to e-mail us on info@usjauditions.com.auor call +61 (03) 9015 9875.
Venue Details: Jason Coleman's Ministry of Dance, Level 1, 64 Sutton St, North Melbourne VIC
Thursday 11th August – Face Character/Actors, & Dancers

Friday 12th August – Singers & Stunt Performers
Audition co-ordinator, Jaci Testro/Connect Entertainment
E-mail: info@usjauditions.com.au Phone (03) 9015 9875
The Lion in Winter
I am looking for an experienced actor to play Geoffrey in the above play. He should look to be 26 to 30 years old.
The season: 4Aug to 28Aug Thursday through Sunday at The Basin Theatre in Doongalla Road THE BASIN
Three rehearsals per week Sunday, Tuesday & Thursday evening.
Good play, Good cast in place except for the important role of Geoff.
Please email if you are interested or telephone on 0408 511 355.
Looking forward to hearing from interested actors.
Cheers
Graham Fly
Director
CASTING WOMEN FOR A RETAIL COMMERCIAL
We are a casting a commercial for a major family retailer store. We are looking for women and mums aged between 20-50 years old. No previous acting experience required. This will be a very exciting commercial as we will be casting over 500 women to appear in total.
It will be shot over 3 days in Melbourne - 11, 12, 13 July - but you will be required for only 1 day (4-10 hours depending on role).
We will be casting 45 featured women (fee $2000). For everyone else the fee will be $100 plus a gift voucher - 6 months usage. Private coaches provided for transport.
Please contact us if you would like to audition or please attend an audition:
When: Monday 20th and Tuesday 21st June 2011.
Where: McMahon Management Studios 390 Clarendon Street South Melbourne
Contact: Pls email for appointment toni@thcasting.com.au 
MALE ACTOR REQUIRED
for photo shoot.
LOCATION: Bayside, Melbourne for CHILDREN'S PARTY AGENCY.
Must be aged 18-25yrs. The actor will be required from 10am until approx 1pm on SUNDAY 19th JUNE. The actor will be required to play various characters, in costume (provided), as part of a 'mock' children's party set up. The photos will then be used on the website of a soon to be launched, high-end, children's party entertainment agency website.
At the shoot, the actor must be able to improvise and interact with the children while the still photos are being taken. Performance experience with children required but not essential.
While this is an unpaid role, this is a great opportunity for the actor to receive professional feedback and extra exposure. The Director may also consider representing the actor within the agency. The actor will recieve full credit on the website, food and drinks at location and two 45min singing or acting lessons from a professional television actress (director of the shoot) at a later date.
The actor is to provide his own transport to the location.
Please send a short bio and a head shot (or clear photo) to thecaboodlegroup@gmail.com by 12 June, 2011.
Mill Boys
The Mill Boys is a stage version of the Vogel-nominated work '11 months in Bunbury' by James Ricks. The play tells the story of a group of sawmill workers in WA and, particularly, the struggle against individuality and intellectual expression in the world of the sawmill. It is a story about the desire to make something of one's life while trying not to lose hope as the world seems to close in.
Jim was captain of the football team and dreamed of a celebrated academic career but now, several years out of high-school, he finds himself working a dead-end job that strips the skin from his hands and the hope from his soul. He knows something is going to break and it's either going to free him or send him down.Nelson doesn't care about intellectual things at all. In fact he doesn't care about anyone or anything which is why he keeps getting fired and beat up until he finds the chance to change when he meets an older woman and one final chance to make something of himself as he learns that going along with the crows gets you places. While Jim and Nelson work side by side they don't know that their luck and ambitions are hurtling them on a collision course into conflict that could make or break their future.
The production has brought together playwright Joel Beasant:
Who has put on shows at the Newtown Theatre, and who has staged large festival and theatre events with the Aboriginal community in Sydney including the 'Rock the Block' festivals in Redfern and as a contributor to Rekonzile at the Seymour Theatre (Sydney)
And producer Jessi Lewis:
Who has been regularly producing for cabaret and transgender shows in Melbourne and around Australia over the past several years.
Contact Joel: 0401 053 953.
DEATH AND LIFE
A SHORT FILM
SYNOPIS
We follow the characters, Death and Life, through a typical day on the job as they navigate a drunk driver, an abusive boyfriend and budget cuts.
We have one more role to cast in this short film which will be entered into Tropfest 2011.
JACK:
Jack is a man living with mental illness. When he takes his medication he is thoughtful, kind and funny but is deceived when he feels well into not taking them. This leads to confusion and anger that is directed at his girlfriend.
To be sent a portion of the script and to organise an audition time, please send an email to jessm.85@hotmail.com
Nicole Frodsham - Writer and Director
Green Cyc Theatre Company & National Trust
Peter Pan
"Get Hooked!"
Green Cyc is holding auditions for Peter Pan to be staged on Melbourne's popular tourist destination – the Polly Woodside on Southbank. The Polly Woodside, which has been closed to the public since April 2006 is set once again for the public to come aboard just in time for the summer 2011 school holidays.
To mark this occasion, Green Cyc Productions in conjunction with the National Trust of Australia (Victoria) is presenting a new production of Peter Pan to be staged on the Polly Woodside herself in the January 2011 school holidays.
Performances will be Monday to Friday at 10am every day, with extra performances on Thursdays and Fridays at 6pm. With a total of 28 performances, this will be a stand out event on the Melbourne calendar.
Green Cyc is looking for male and female actors to fill a number of available parts for this production. Actors wishing to obtain an audition must be able to sing, dance, have a 'large' magnetic comic character and show a proven background performing to children.
If you believe you fit the above description, then please send your photo and CV to youarn@greencyc.com.au to be considered for an audition for this production. Auditions will be held on either the 20th or 21st of November (TBC).
This will be a paid production; more information will be provided on the day of audition.
THEATRE IN EDUCATION
Talented singer/actors, male & female, 20-30 y.o. wanted for professional Theatre In Education Work touring schools in metro Melbourne area.
Must have some knowledge of Italian (or good ability to learn) for Italian/English bilingual script and songs. We are looking for experienced and trained performers. Position often suits person with a Musical Theatre background as performers need a strong voice, exceptional singing and character acting abilities and able to move well for simple choreography.
Need own vehicle and must be available days during school terms for rehearsals and gigs throughout 2011. Payment is per show plus a travel allowance.
Due to high energy style of these performances an excellent level of fitness needed. Please email CV and current head shot for consideration of an audition in early December in East St. Kilda. Applications close 30/11/10.
Email: info@fablesandfrolics.com.au  Web: www.fablesandfrolics.com.au
"Because the World Needs Unicorns"
Williamstown Little Theatre.
Although it is an Amateur Theatre Venue, which predicates that there is not a fee, those involved all have professional training and experience. It is a very funny, low- time-commitment project and I'd greatly appreciate it if you could please post it on the Rehearsal Room site. Actors are welcome to contact me directly via jacarandatheatre@yahoo.co.uk.
BRIEF: This is the hilarious short play from Cerise de Gelder, "Because the World Needs Unicorns". The animals are boarding the ark, and a Unicorn, trying to get on, encounters a myriad of administrative difficulties as Noah checks his "list". This is only made worse when other mythical brethren, a Dragon and a Bunyip, have no such problems. This play, exploring the Red Tape of the Red Sea, is a deliciously witty 10 pager as part of the Williamstown Little Theatre's "Play Six" Short play Season. Great fun, short commitment!
DETAILS:
Submission Deadline: 10th November
Performance Dates: 9-11th December
Venue: Williamstown Little Theatre
Director: Debra Low
Play Six Artistic Director: Shannon Woollard
Auditions 13th and possibly 14th November, Venue TBC but probably in Sunshine.
Rehearsals: By arrangement with cast.
ROLES
Noah: (Lead)Male, 40-70 years. Ark Owner . Sharp, dry, non-nonsense, very funny. This is a role which the actor can go to town to make his own. A myriad of "types" are possible. Likely to wear a security badge as the party of the millennium is going on inside.
Unicorn: (Lead). late20s-40sElegant, articulate, unafraid to cause a scene and aware of her rights, Unicorn is astounded by her bad treatment and has no qualms about voicing her views. Good comic timing absolutely essential.
Bunyip: Male (Support) Big, happy, Aussie Aussie Aussie. A small role with a big impact. Laconic and jovial. Aboriginal and Torres Strait actors particularly welcome. Outsmarts Noah to get on the Ark.
Dragon: Male (Support) Slightly menacing with Stand-over strategies firmly within his grasp, possibly Welsh or New Yorker. another wonderful small role. Threatens Noah to get on the Ark.
Please supply a cv, a low-res headshot, phone number and personal email address.
Debra Low
Apollonian Dionysian Productions
ACTORS WANTED FOR A SHORT FILM
THE DANCE
THE DANCE is an adaptation of a poem (with the same name) by the Armenian poet Atom Yarjanian Siamanto. It takes place in the 1900's in a small town, near mount Ararat. The Ottoman Empire is still in rule. A small group of militants abduct, torture and kill six brides. This is about the crimes that "men do to men".
CHARACTERS:
Greek Woman must know how to speak Greek. Aged between 25 and 40.

X5 Brides European descent, brown hair and brown eyes (preferably), Aged between 18 and 35

X3 Militants Men of any height but preferably of a stout build, with dark features, brown eyes and hair. Aged between 20 and 35.

Dead Girl European Blonde hair preferably. Aged between 18 and 35.
A cast of 10.
My contact details are:
0438339834
PO BOX 1058 Sydney RD Brunswick 3056
ESTA SYLAIDOS
brainstormproductions
We are a professional theatre company looking for actors to audition for paid work for our 2011 touring season. We are holding auditions in Melbourne in November.
FOR MORE DETAILS CLICK HERE
Kind regards
Marisa Baker
Auditions Coordinator
brainstormproductions
auditions@brainstormproductions.com.au
FEMALE ACTOR EARLY FORTIES
We are looking for an actress in her early forties to play, Mademoiselle Bojou, a faux french dance teacher who is outrageous. It's for a comedy/mockumentary mini pilot episode to send to producers and production companies. If interested please send your headshot and CV to fantasbojou@ymail.com 
Thank you,
Leiarna and Nicole
"The Black Sheep" short film
What is it that makes us human? What gives us the desire to be loved, or with others?
Evelyn is the black sheep of her family, and all she wants is to reconnect, but the rest of her family aren't too keen. What is it about her that's blocking the most important of life's connections? Taking place at the heart of it all, the dinner table, we delve into how we can be so together or so apart, and make us look at ourselves.
This is a graduating RMIT short film from experienced students with collaboration from outside experienced crew. From an emerging director and with cinematography from the 2009 Screen showcase Best Cinematographer (Dip) winner and experienced sound designer. Will be entered into local/national and international film festivals.
Jane
Jane is the mother of the family, the nurturer. She is more open to Evelyn but still holds back.
Females, aged 40 to 60 from Victoria
| | |
| --- | --- |
| Languages spoken: | English |
For an audition please contact by calling Rilo on 0413 686 799
A Play About Online Dating
The play explores the crazy, nervous happenings of the online dating scene.
3 males and 3 female parts up for grabs. All in the age range of 25-35.
Auditioners will see some of the script on the day.
* I have already booked a venue in a space in Myer Street in the city.
Please email or call to make your own time to Audition
Audition with a 2 min piece of your own choice.
I look forward to meeting you.
Hannah Burt.
0411 224 581 Hannah Burt ohannahburt@gmail.com
A UNIQUE PROJECT
for one night only!
Intrigued? Read on...
Award-winning Melbourne company requires actors for amazing new work!
50 x performers
1 x carpark
4 x hours
Uncle Semolina (& friends) (makers of Ticky Tacky, Gilgamesh and OT ) present their newest work, Peter and the Wolf.
This show is inspired by invisible networks, radical social theories of group dynamics, the essays of David Foster Wallace, bad dance steps, and flat pack instruction manuals. A story about a wolf, a wall, a gate and talking animal friends becomes a metaphor for how we are enmeshed within systems bigger than ourselves.
For one night only, over four hours, in an underground car park, with an audience that comes and goes, 50 performers will tell and re-tell the story of Peter and the Wolf, working from a matrix of stimuli, building and dissolving groups and playing spaces. A tiny, delicate moment between just you and one actor is destroyed by the deafening roar of a crazed crowd.
What we need from you:
So far 30 actors from around Melbourne have registered for this amazing, one-off event – but they want more!
When: the date of the show is Saturday October 2nd.
Workshop dates: The first workshop has been held, but there is one more this Sunday September 26th from 2.30pm-5pm
Any further questions email: wolfquestions@http://www.facebook.com/l/ded70ko4rK2AdmM4O7vHpdLZZdw;unclesemolina.com
Otherwise REGISTER NOW by emailing thewolf@http://www.facebook.com/l/ded70ko4rK2AdmM4O7vHpdLZZdw;unclesemolina.com
GARDEN LOVERS FESTIVAL
Churchill Island's Garden Lovers Festival, an annual festival celebrating all things gardening, is looking for … . performers or a group of performers who would be interested in coming along to our community festival.
At this years festival we want to have more entertainment for the whole family. It would be great to have some performers come along and display there talents to hundreds of Garden Lovers Festival visitors.
Not only do we have lots of gardening stalls, demonstrations and expert advice but we also have a range of kids activities ranging from face painting, plaster kids, old time games and historic farming activities all day long.
The festival will be held on Sunday 7 November 2010 from 10am – 5pm. It is on Churchill Island Heritage Farm which is connected by bridge to Phillip Island.
Lisa McKenzie
Marketing & Promotions Executive
Phillip Island Nature Parks (03) 5951 2879 Fax: (03) 5956 8394 Mobile: 0427 141 178
PO Box 97 Cowes,
Victoria 3922
Email llisamckenzie@penguins.org.au Web www.penguins.org.au
EventiveOne Production presents...
THE BALINESE PRINCESS & THE FUNKY MONKEY
AUDITIONS: 10th-18th January 2010 @ Melbourne CCC
Seeking:
Choreographer

4 adult actors

2 child actors
Please see website for full details. Auditions are strictly by appointment. Award rates apply. www.balineseprincess.com.au
Julia Valentini
Production Assistant
M. 0422 689 899
E. julia.valentini@eventiveone.com.au
61 Broadway
Elwood VIC 3184
(03) 9531 4215
(Working hours are Fridays 8:00am – 4:00pm only)
------------------------------------------------------------
S T A T U S:
'Status' is a thriller-drama. It tells of a couple and a world consumed by technology and the evolution of our digital personas.
Status is an apocalypse tale of the old world's violent collision with the new
An exciting new short film is in pre-production. We are looking for great people to complete the film in various extras roles - Any age, any gender. This is sadly an independent UNPAID project.
We have a great single shot steadicam sequence that could feature you with individual screen time and your own voice over dialogue.
We have an exciting synchronised movement chase sequence that should be a lot of fun.
We have a couple of specific roles for young women/ teenagers of Asian background. Preferably able to speak in a language besides English
We also have an exciting, steamy featured character role:
"Stephanie"
Female - Age 25 – 32 - This is a significant role. It entails scripted dialogue alongside the male lead of the film. It largely involves an affair/sex scene. It would not involve nudity but would be highly physical and hands on. If you are interested in this role please send a head shot and full body shot.
Commitment in a role:
Likely to entail 2 night shoots. Likely 8th and 9th of October 2010. It would also include a recording session for voice over dialogue.
The role of Stephanie would entail one night shoot, likely 10th October 2010.
Please Richard Williamson neon.muse.pictures@gmail.com
Producer and Director are both graduates of the VCA Film School. My last short film has played at 9 international festivals including Clermont Ferrand in France.
THE GATHERING
Shooting 8th – 15th September
Heydon Films is producing a 30 minute drama about binge drinking we will be shooting from 8th -16th of September for a titled "The Gathering" this film will be made for a local council in WA but made as a teaching resource to send the message out about binge drinking. The film is aimed at 16 year olds, as it is for a local council, their is very little budget so we require extras (un paid- aged 16-20) for one day for the major party scenes. We are still finalising the day of the major party scene but it will be on the weekend of 11th- 12th September.
Actors are interested in being extras, please contact me direct david@heydonfilms.com.au
We will be filming in Black Rock.
David Jaffe
Production Manager
Heydon Films
2 Stephenson St
Richmond VIC 3121
+61 3 9428 3335
+61 413 255 886
----------------------------------------------------------------------------------------------
A Play About Online Dating
The play explores the crazy, nervous happenings of the online dating scene.
3 males and 3 female parts up for grabs. All in the age range of 25-35.
Auditioners will see some of the script on the day.
* I have already booked a venue in a space in Myer Street in the city.
Audition details
Thursday August 26th 6pm sharp
Meeting place 2/ 40 Clyde Street East Kew, Tram number 48 from the city.
The audition with be 2 min piece of your own choice.
You should be out by 7:30pm
*Confirm you can come as soon as you can.
I look forward to meeting you.
Hannah Burt.
0411224581 Hannah Burt ohannahburt@gmail.com
----------------------------------------------------------------------------------------------
"The Getaway"
Male Actor Required for New Australian Play Melbourne Fringe Sept 22nd to Oct 10th
by Judi Chaplin-Fleming, writer, actor "The Getaway" an exciting new play for two actors. I will play the
female role (late 30s) and I need to cast
A male character late 30's to mid 40's.
The style is naturalism. The man needs to be a strong actor, capable of comedy and interested in improvisation.
The production is a professional profit share. I have had a recent fundraiser and the costs associated with the production are in hand so the season will generate a profit. The venue is a brilliant new theatre venue off Flinders Lane in the city.
I trained at NIDA graduating 1996. I have since worked in TV, film and on stage. My husband, John Fleming from the Scared Weird Little Guys will be composing music for the production. Georgina Naidu is production manager.
Please contact me via email judecf@optusnet.com.au or phone 0413 191 107
with your interest and availability as soon as possible.
Judith Chaplin-Fleming judecf@optusnet.com.au
----------------------------------------------------------------------------------------------
NEW CHILDREN'S GAME SHOW
APPLICATION FORM
Are you aged between 12-15 years?

Do you have a topic that you love and know heaps about? It can be absolutely anything. For example; you may know heaps about action movies or ancient Greece or horse riding or astronomy or famous Pop Stars!

Do friends and family call you an expert on that topic?

Wanna have tons of fun playing a game that tests how much you really know?
If you answered YES, then we're looking for you!
We're on a nationwide hunt for contestants to star in a
brand new, children's television game show.
If you are interested then fill out the application and send it to us
(With your parent/guardians' signed consent form) at:
auditions@ambienceentertainment.com.au
Make sure you put the state you live in and your specialist topic in the Subject line of the email, for example: QLD, rock bands
You must have your parents' written permission before completing the application form and be available for filming during September and/or October 2010
There are more details about how to apply on the form. Please read them carefully. We will consider everyone who applies equally, but cannot guarantee that everyone will be successful. Only those who have made it to the next round will be contacted by the production team.
Good luck!
----------------------------------------------------------------------------------------------
VCA Film
ACTORS NEEDED URGENTLY
I am producing a 3rd Year Film Student: Andrew Kavanagh's VCA Graduating film: AFTER THE FORMAL. We are in DESPERATE need of actors to fill our production!
The film is of an experimental and highly atmospheric/moody nature, being filmed in slowmotion, over two shots and with everyone having an equally featured role as a guest at a high school formal.
It is also being shot on 16mm film (great for showreel, and rare as now everyone is shooting on digital).
The story is based at a high school formal and we need to cast both juniors (18+) and seniors (40+) to give the scenes a party/social atmosphere, I've attached the synopsis below this email, to give you a greater idea of the story.
I was hoping you would be interested in passing this onto your acting students who may be interested in this unique project!
Details of the shoot are as follows:
______________________________________
Requirements:
- On set: 2pm - 6pm on next week: FRIDAY 6TH, SUNDAY 8TH AND MONDAY 9TH OF AUGUST (all or either days would be great!)
- Address of the location is: Community Hall, 9 Bradshaw St Hall, Essendon (Melway ref 28 B3)
- Be dressed in formal attire (the film's is set in a municipal hall, all extras must be dressed as though they are attending a High School Formal)
______________________________________
Benefits:
- This film is a great opportunity to work on a VCA Graduate Film being shot on 16mm and have a unique project to boost showreel. The film will also be presented at ACMI Cinemas at the end of the year.
- A copy of the film on DVD will be recieved
- Of course, all cast will be fed, warmed and well looked after on-set :)
______________________________________
No audition will be necessary, just a contact details and confirmation that you will be participating.
Please do not hesitate to contact me directly via email or phone if you have any queries or require more information.
Thank you in advance for your help! It is most appreciated.
I look forward to hearing from you and your actors very soon!
Regards,
Ramona Telecican
Producer
"AFTER THE FORMAL" by Andrew Kavanagh
0423 909 634
TO READ THE SYNOPSIS CLICK HERE
----------------------------------------------------------------------------------------------
MAKING A SHOW REEL
I would like to do a showreel for my AT2 profile ,and I am looking for a scene partner .
If you want to share the experience and the costs give me a shout. We could both benefit by sharing our skills and finances.
Cheers,
Gary Iannello
0409 941 435
---------------------------------------------------------------------------------------------------
WishingWell Productions
World Premiere
WishingWell Productions is seeking female actors for their Midsumma 2011 (Jan16 - Feb 6) production – the world premiere of Merrilee Moss' new play Tango Femme, directed by Brenda Addie, and choreographed by Anny Salerni (Dance Cats).
A burlesque comedy, Tango Femme is about sexuality and gender, mothers and daughters, butch and femme, the body and dance. It features seven women aged between 25 – 65, as they prepare for the OutGames Dancesports competition.
Actors do not have to be able to dance, but as all actors will need to learn some ballroom dance routines, they must have the ability to move well.
For further details and to audition please email biog and headshot to –
or phone 0417 161 098
-------------------------------------------------------------------------------
universal studios japan

auditions 2010
Celebrating its 10th year of operation, Universal Studios Japan® is returning to Australia, London, Toronto, New York, Orlando, Las Vegas and Hollywood, and expects a record number of performers to register. Universal Studios Japan is casting for Singers who can move well, Dancers who can sing, Face Character/Actors and Stunt performers for their theme park in Osaka.

Please find below a list of role descriptions and current productions including the Broadway hit WiCKED and the classic Peter Pan's Neverland, Universal Monsters Live Rock and Roll Show™, WaterWorld™ and the other amazing new Productions.

Please note that auditions are by appointment only and all applicants must be at least 18 years of age at the time of audition.

We invite you to direct any interested performers of your Theatre Group to the website to view further show & audition details and to register for an audition time.
Please have them go to www.universalauditions.com/japan to complete the artist audition registration form.

Successful applicants will be offered employment at Universal Studios Japan in Osaka, commencing in early 2011.

If you require additional assistance, please feel free to e-mail us on info@usjauditions.com.au or call +61 (03) 9015 9875.

Dates and Audition Categories

GOLD COAST
AUGUST 12 Stunt Performers and Jet/Water Ski Performers
AUGUST 13 Face Character/Actors and Singers who can dance
AUGUST 14 Dancers who can sing

MELBOURNE
AUGUST 17 Face Character/Actors and Singers who can dance
AUGUST 18 Dancers who can sing
AUGUST 19 Stunt Performers

Kind regards,


Jaci Testro
AUDITION MANAGER
FOR SPECIFIC DETAILS OF AUDITION REQUIREMENTS CLICK HERE

-------------------------------------------------------------------------------------------------------
FRINGE SHOW AUDITION
Monday12th July
Looking for Female lead and many Male leads for Fringe show. Some auditions have already taken place and it is looking like it will be a great show. if this 18th Century supernatural genre sounds like your cup of tea, dont miss the last scheduled audition next week Monday 12th July. Email me at suzymarkovski@hotmail.com

"The Great God Pan" is a novella written by Arthur Machen. A version of the story was published in the magazine Whirlwind in 1890. It was later adapted as a play by Charley Sherman.
Synopsis: A woman in Wales has her mind destroyed by a scientist's attempt to enable her to see the god of nature Pan. Years later, a young woman named Helen Vaughan arrives on the London social scene, disturbing many young men and causing some to commit suicide; it transpires that she is the monstrous offspring of the god Pan and the woman in the experiment.

------------------------------------------------------------------------------------------------------
OH, WHAT A LOVELY WAR!
written by Joan Littlewood and Theatre Workshop
directed by John Keogh
Season 16 SEP - 2 OCT 2010
Weeknights and Saturdays at 8:00pm
Sundays at 2:00pm
About the play
This was possibly the first anti-war play to receive wide acclaim by critics and audience alike. First performed in 1962, "Oh, What a Lovely War!" conveys its message using sketches, song, humour and newspaper clippings, in an almost vaudevillian style. Its real heroes are revealed to be the 'cannon fodder' of The Great War, not the officer class.
AUDITION DATES by arrangement.
Audition venue – Heidelberg Theatre, 36 Turnham Ave Rosanna - Melway 32 A1
CHARACTERS
This is very much an ensemble piece. Everyone will be playing a variety of roles such as soldiers of various nationalities, politicians, nurses, suffragettes, factory workers, high society ladies, business men of different nationalities, Music Hall entertainers, singers and dancers. The scenes follow in quick succession.
Various accents will be required: English regional, Scottish, Irish, American, French, German, Russian.
WE WANT
Actors who are OK to sing and dance a bit.
Singers who are OK to act and dance a bit.
Dancers who are OK to act and sing a bit.
Nothing too sophisticated. Enjoyment guaranteed.
*****************
Rehearsals will commence early July on Tuesdays, Thursdays commencing at 7:30 and Sunday afternoons commencing at 1:00pm (times and dates are subject to negotiation)
******************
For further information please contact the Director, John Keogh.
Home 98276903
Mobile 040 1745 483
Email jfk@netspace.net.au
----------------------------------------------------------------------------------------------------------------------------------------------------
"Hospitality The Musical" - A Tragedy In Three Shifts.

A comedy for anyone who has explained the difference between a panini and a focaccia, ignored the three second rule, or lied about the "organic" chicken, "Hospitality" is a day in the life of a second rate dining establishment staffed entirely by actors, who strive to combat the monotony of their miserable, underpaid existence by indulging in fantasies of life on the stage.
After sell out seasons at the Melbourne Fringe and Melbourne Food and Wine Festivals, this show will be remounted at the end of the year, before we shoot the pilot episode of "Hospitality" the tv series.
We are looking for actors to join some of the original cast and live out their fantasies of artistic expression amongst the muggacinnos, low fat muffins and gluten free toast.
Audition dates: Friday July 2nd
Saturday July 3rd
Meeting Room, Prahran Library 180 Greville St Prahran
Requirements: You must be fabulous. Short monologue, any style. Please bring head shot and CV.
Call backs: Friday July 9th
Email yasmine@opticverve.tv for more information and to confirm audition time.
----------------------------------------------------------------------------------------------------------------------------
OPPORTUNITY FOR TV PRESENTing
A second season of a baby boomer lifestyle program is being produced for Community Foxtel Station Aurora. The producers are looking for a male or female host, based in Melbourne, looking for voluntary experience and exposure.
Aged between 45-65
Interested people should submit themselves to the below contact details

Kind regards
Anthony Abicair
Executive Producer
Late Night Media Productions
anthony@latenightmedia.com.au
www.latenightmedia.com.au
Ph: 03 9876 3885
Fx: 03 9876 3881
(richard's Note: If you are younger why not pitch yourself as the child of a baby boomer - anthony is appparently open to using a wider age range.)
----------------------------------------------------------------------------------------------------------------------------
Daisy Chain
Written by Alan Skinner and Eryn Skinner
Directed by Eryn Skinner
Only the innocent need to be redeemed ... the rest just need therapy
Pain, punishment and consequence; hope, love and death; notions of Hell and the difficulty of just getting life right, are all thrown into the pot. In the tradition of drama that challenges, Daisy Chain confronts our ideas and presents new perspectives for our scrutiny – never forgetting that humour is the best sugar for a intellectually challenging pill.
In a re-telling of the Orpheus and Eurydice legend, a young couple are separated while on a picnic. The young man's search for his missing friend leads him to a small, isolated village where nothing is quite what it seems to be. Or, then again, maybe it is.
Structured in three acts around a cast of ten characters, the play draws on farce, comedy of manners, drawing room drama and even juggling. It yields up its fruit most easily in a traditional proscenium-arch style production, though its concentration on pace and language, and its Absurdist debt, make it suitable for almost any style of production.

Daisy Chain will run at Theatre Works from 12th August until 21st August.

Cast List
| | |
| --- | --- |
| Toby | A serious young man, 20-ish. Practical, logical, even-tempered and good-natured. Rather quiet. |
| Sarah | An effervescent young woman, 20-ish. Blonde, flighty, effervescent, very modern; believes in everything that a person with conscience should believe in. Talks a lot. |
| Amelia | A woman, 30-ish. Always calm, but always gives off a sense of confidence and assurance. Firm but never harsh. |
| Ben | A shopkeeper, middle aged. Not terribly well-spoken. Taciturn, often cynical but not mean. |
| Cail | A young boy, aged 12. Very self-assured and well-spoken; an adult in a pubescent body. There is always an underlying mischievousness about him. (Juggling skills an advantage.) |
| Deirdre | A woman, middle aged. Typical middle-class, conservative matron. Brusque, no-nonsense air about her. A reserved exterior that occasionally cracks to show something softer beneath. (Must be confident on a bicycle.) |
| Dr Edwards | A doctor, mid-30s. Earnest and serious but friendly. Energetic, with a touch of the absent-minded professional about him. The type who always seems to need a mother or partner to make sure he puts on his cardigan when he goes out. (Juggling skills an advantage.) |
| Max | A middle-aged, gruff, hard man. Once was probably very fit but now a bit flabby but he doesn't realise it. His attitude makes it seem as if he always has a scowl on his face even when he's smiling. |
| First technician | Between 25 and 50. Abrupt, officious and clinical with a single purpose. Has an inflated sense of own importance. Speaks quickly, the words almost clipped, but always precise. (Great ball handling skills.) |
| Second technician | Between 25 and 50. Abrupt, officious and clinical with a single purpose. Has an inflated sense of own importance. Speaks quickly, the words almost clipped, but always precise. (Great ball handling skills.) |
Please note: The roles of Dr Edwards and Max will be played by the same actor.
Auditions will be held at Gasworks from 8th June until 11th June.
Call-backs will be held at Gasworks on 13th June.
Rehearsals will run from week starting 14th June until 8th August.
Production will run at Theatre Works from 9th August until 22nd August.
Daisy Chain is a profit-share production.


Please email expressions of interest and applications with CV, headshots and roles applying for to eryn.skinner@three.com.au.
-------------------------------------------------------------------------------
BROKEN GLASS
"Broken glass" is a Psychological Thriller about Derrek, for his 21st birthday party Ethan, his older brother and some friends are partying for the weekend in an isolated cabin in the woods.
Their fun is cut short when Derrek accidentally kills a young woman…
The reactions to what is to be done about the body vary from calling the police to disposing of the body. Quickly people take sides and trust no one. Who will survive til' sun rise?
Derrek (21)
Young law student, easy going and younger brother to Ethan. Derrek is racked with guilt following the accidental death of Stacie and is dominated by his fear Ethan. Derrek has something to hide from Ethan.
Ethan (27 to 33)
Hard working factory man, selfish, womaniser, and egotistical and dominating older brother to Derrek. Following Stacie's death Ethan controls the others using violence and fear. Low-level criminal that sells and uses drugs and blames Derrek for their fathers death.
Katherine (22 to 26)
Young veterinarian, strong independent woman, caring and loving and best friends with Stacie. After Stacie's death Katherine wants justice and wants to take her body back to her family. But finds herself currently in a battle with her ex, Ethan.
Stacie (20 to 23)
Stacie is the girlfriend of Derrek, she is social, in love with him and is accidentally killed in the narrative and Derrek, Ethan and Katherine have to deal with her death. The audience meet her at Derrek's 21st birthday party where she has already developed a year long relationship with Derrek and he plans to marry her soon. She is the catalyst character without her death in the inciting incident the other characters wouldn't face their pasts, true selves, future and fears.
Jared (25 to 30)
Jared is Stacie's older brother whom the audience meet following Stacie's death he arrives at the cabin to pick up Stacie, Derrek and Katherine to take them home only to find his younger sister dead Jared is in shock. Growing up Stacie and Jared were close he always looked after her she meant everything to him therefore to deal with her death is life changing.
About us: Chris and Robert Smellin
Our last film "In Her Eyes" that we wrote and directed won a Remi award at Worldfest Houston international film festival and our other two short films "The Girl in the red dress" won the best film award at the Monash youth film festival, a Remi award Worldfest Houston international film festival, was a Honoree Mention at the Smog Dance film festival, a finalist at the open channel "love your work" film festival and was screened at the Melbourne, Denver and Atlanta underground film festivals and "My Brother Danny" won best actor and Drama at the Monash youth film festival.
Screening:
We also have our Bachelor of screen production and are currently studying our Masters of creative media at RMIT.
The film will be shown at ACMI (Australian centre for the moving image) and entered into international and national film fest
Shooting:
The shoot will be in early or mid September between 8 to 10 days of shooting.
HEADSHOTS & CV'S - please send head shots a cv's to rcsmellin@hotmail.com.
thanks heaps,
Chris Smellin
-------------------------------------------------------------------------------
'The Great God Pan'

A Play By Charley Sherman

Adapted from a short story by Arthur Machen

The Great God Pan is a supernatural horror thriller, detective story, set in Europe circa 1888, the year of the Ripper. It is the account of memoirs by an old man while being interrogated at the hands of the Nazis during World War II. It combines a series of actual events entwined with the mystery of occultism to reveal the origins of a young 'devil woman' and her elaborate tale of subterfuge whose travels leave a trail of gruesome murders…

Its very intense and full of blood and gore!!

First produced by Wild Claw Theatre in Chicago 2008

The Great God Pan will run during the Fringe Festival and as of now we are taking expressions of interest into all production and casting roles. Yes we are getting in early. Some have already been taken care of though immediately we are seeking a Director.

Others include:
An amazing venue has been confirmed, a large unconventional space with amazing possibilities and as well as being on the way to securing a budget..

But first we are looking to audition for an experienced Director and would like to secure one in the next few weeks. If this seems like your aesthetic and would like to get involved please contact us and we will forward you a script as soon as possible.


thepitandthependulum.patterson@gmail.com


This is going to be one hell of a show!!



Cheers,

The Pit The Pendulum Crew
--------------------------------------------------------------------------------------------------------------
HENDRICK'S GIN PROMOTION - IMPROVISation
1 FEMALE and 1 MALE (late 20's to early 30's) are required to take part in a promotional activity for HENDRICK'S GIN.
CASTING - Lord and Lady Hendrick to take part in 'mystery shopper' and bar tasting activities performing in character impros in local Melbourne bars and pubs. COSTUMES PROVIDED. (Lord and Lady Hendrick are the faces of Hendrick's Gin all around the world)
All activities will be on Wednesday, Thursday and Friday evenings - 29th & 30th April; 12th, 13th & 14th May; 20th &21 May; 27th & 28th May; 3rd & 4th June and 10th & 11th June.
PAY - $100 an hour per actor - minimum 4 hour call for all of the above dates.
CASTINGS - MONDAY 12th APRIL in Melbourne.
Email headshot & CV to Natalie Jane nataliejanem@bigpond.com OR call Citizen Jane Casting on 0401 215 950 for further details.
--------------------------------------------------------------------------------------------------------------
3 Big Men Productions in conjunction with BeyondBlue invites you to Audition for
"Working"
A Musical
From the book by STUDS TERKEL
Adapted by STEPHEN SCHWARTZ and NINA FASO
WORKING is an insight into how people feel about their work, what they want from it and what they give to it. A musical, a LIVE documentary, a play - about all of us - that explores common human truths... From the creators of WICKED, the musical, WORKING explores the hopes, dreams, joys and concerns of the average worker…. Everyone has a story.
www.workingthemusical.com.au

The Team
Direction – Dione Joseph
Musical Direction – Daniel Heskett
Choreographer – Kate Mulheran
Production Manager- Fiona Miller

Audition Requirements
Please provide a current head shot and resume to be brought to your audition.

Prepare one song, with sheet music only, in the appropriate key.

No backing tracks or acappella.

Minimum age 18 years

Auditions will be held at 10 Malua St Reservoir "Catchment Factory"
What to do to join the WORKFORCE~
Book an audition and call: 0414 657 578 after 5pm
or email: gollandfamily@optusnet.com

AUDITION DATES
Friday 16th of April
Saturday 17th of April

CALL BACKS
Sunday 18th of April

PERFORMANCES
Chapel off Chapel – July 16th -30th 2010

REHEARSALS
8 week rehearsal period beginning 16th of May. 7.30-10.30Tuesday, Wednesday, Thursday. Central venue to be confirmed.
THIS IS A PROFIT SHARE PRODUCTION AND ALL CAST WILL BE EXPECTED TO SIGN A SERVICE AGREEMENT WITH 3 BIG MEN PRODUCTIONS

CAST
Mike Dillard, Ironworker; Al Calinda, Parking lot attendant; Amanda McKenny, project manager; Rex Winship, Corporate executive; Rose Hoffman, school teacher; Babe Secoli, Supermarket checker; Roberto Nunez, boxboy and migrant worker; Conrad Swibel, UPS delivery man; Kate Rushton, Housewife; Roberta Victor, Hooker; Candy Cottingham, Political fundraiser; Grace Clements, Mill worker; Anthony Coelho, Stone mason; Frank Decker, interstate Trucker; Heather Lamb, telephone operator; Sharon Atkins, receptionist; Enid Du Bois, telephone solicitor; Delores Dante, waitress; Joe Zutty, retiree ;Tom Patrick, fireman; Maggie Holmes, cleaning woman; Ralph Werner, salesman; Charlie Blossom, ex copy boy
Please note cast members will be asked to perform multiple roles.
--------------------------------------------------------------------------------------------------------------
Katieland

A wonderfully written short film written by Award winning NZ based creative Pete Force.
Directed by Jeremy Brett. Film is being made with international film festivals in mind.
Synopsis -
We all lose things - from time-to-time we can even lose ourselves. Katie Colvin wakes up in a strange room surrounded by everything she's ever lost. It's a surreal place with no windows or doors and she soon discovers she's not alone.
In the room with her, squeezed into one of her old frocks is a very confused boy. Who is he? How did they both get there? And can they ever escape?
Katieland is a thought-provoking short film about loss, the past and what our possessions mean to us.
Two leads -
A boy aged between 8 to 11
A female aged between 27 and 37 - must have experience
Currently a non-paid position.
Shooting in Melbourne around end of June early July. Auditions being held over April/May.

Contact: Jeremy Brett - jeremyis@inbox.com
---
INTRO | ABOUT | WORKSHOPS & CLASSES | TESTIMONIALS | LATEST NEWS | WORKING ACTOR
GREENROOM | DIRECTOR'S NOTES | QUOTARIUM | DIARY | OFF-CUTS | AUDITIONS | CONTACT

---
All contents copyright © The Rehearsal Room unless othewise stated | Designed by Salmac
Maintained by The Rehearsal Room