SUNDAY "DELIVERING THE STORY" WORKSHOP
A WORKSHOP FOR ACTORS & DIRECTORS
Have you ever sat through a movie or play and thought "I'm not really sure what that was about'?
Telling stories. It's how we humans connect. We tell stories in our movies, TV shows and theatre.
But telling stories is not as simple as speaking the words on the page. It's what you do with those words that determines what story you tell, or even whether you manage to tell a story at all.
Delivering the Story is a Rehearsal Room workshop that empowers actors and directors to tell exciting and engaging stories by:

exploring story options

identifying the story you want to tell

identifying how a particular scene fits into the overall story

finding a clear and simple path through a scene to deliver the story

remaining flexible and able to change
PROBLEMS
Do you have an acting or directing problem that you need to solve?
Actors: Are you frustrated that you get auditions but rarely book the job? Do you struggle to change your performance when the casting director asks for something different?
Directors: Do you struggle to explain to actors what you want from them, or know how to get them to make a big change? Do you wish you could articulate what you're trying to achieve with your project?
The Rehearsal Room provides practical tools that help actors and directors solve a wide range of performance problems. In our experience, many problems stem from issues with identifying, articulating and delivering the story. Whether you're working on one scene or a whole script the 'Delivering the Story' Workshop will help you a LOT.
Classes run for 4 hours, over 4 Sunday afternoons. In the final session students work with a guest tutor, an industry professional, to put what they have learned into practice. Previous guest tutors have included director Daina Reid (INXS, Offspring, Miss Fisher's Murder Mysteries), Andrew Prowse (The Doctor Blake Mysteries) and Mike Bishop 'Neighbours' acting coach.

THREE SESSIONS WITH RICHARD SARELL TO LEARN THE PROCESS – THE FINAL SESSION IS WITH A GUEST DIRECTOR.
THE COST: $460 (including GST) - for 16 hours tuition over 4 weeks
DEPOSIT: $50

MAXIMUM OF 8 ACTORS per class.

CLICK HERE to return to the enrolment page.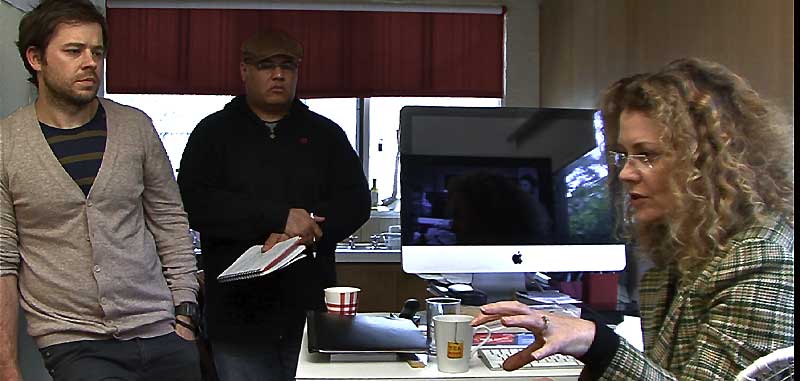 Director Daina Reid discussing a performance element.
If you wish to enrol now ...
---
< BACK
---
INTRO | ABOUT | WORKSHOPS & CLASSES | TESTIMONIALS | LATEST NEWS | WORKING ACTOR
GREENROOM | DIRECTOR'S NOTES | QUOTARIUM | DIARY | OFF-CUTS | AUDITIONS | CONTACT

---
All contents copyright © The Rehearsal Room unless othewise stated