PLAYING THE VERB
Playable Verbs
One of Constantin Stanislavski's great revelations is the value of using a verb to identify the sub-textural qualities of a performance. The simple value of this process is that it labels the actor's intention/purpose/"need" in an active mode rather than a passive or a descriptive one. To be actively engaged in the drama is the actor's primary goal. Just look at the publicity poster for any movie. The images they use are always the ones where the actor is actively focused.
Choosing a Verb.
Making the right choice of 'verb' is often the most significant and fundamental force guiding an actor's performance choices.
Understanding:
how the verb works ;
how to select it;
and how to trust it in performance
is essential for the actor. It is also one of the basic principles which is often misinterpreted and misunderstood. The Rehearsal Room workshops explore this area with great clarity.
The List
In the workshops a list of the most frequently used verbs is explored. Actors constantly ask for copies of this short list of functional, re-usable and effective verbs. The list is not definitive or exclusive but those who understand how the acting process works find there is seldom a need to look further a field.
The most significant rules The Rehearsal Room advocates are to -
Understand your choice of verb
Trust your choice
and make sure you Listen.
Check your choice in that well used and trusted Stanislavski phrase - "I want to ………. you." It is a simple and very useful practice.
HERE ARE THE VERBS ...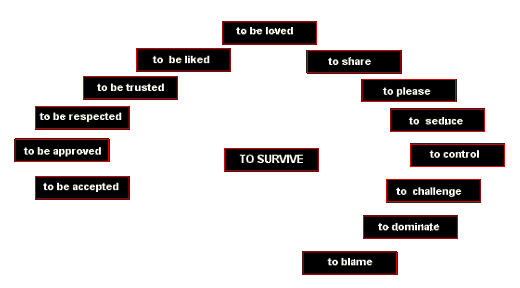 Actors who understand and trust such simple and effective "needs" as those listed above give feedback to The Rehearsal Room such as ... "I wish I had known this years ago" … "I have learnt more useful practice here in two days than I did in twelve months of tertiary study."
CHECK OUT THE LIST OF REHEARSAL ROOM WORKSHOPS
copyright © www.rehearsalroom.com
---
< BACK
---
INTRO | ABOUT | WORKSHOPS & CLASSES | TESTIMONIALS | LATEST NEWS | WORKING ACTOR
GREENROOM | DIRECTOR'S NOTES | QUOTARIUM | DIARY | OFF-CUTS | AUDITIONS | CONTACT

---
All contents copyright © The Rehearsal Room unless othewise stated