Off Cut Forty Four
The tango is a great dance for actors for it embodies all the ingredients of the actor's performance process in the physicality of the dance.
The Tango Conversation
Some of the cast of the New Zealand series Mercy Peak had to learn to tango for the shooting of a recent episode. Instructed by Argentinean born Miriam Cuperman the tango classes were a fascinating experience. Tango as danced in Argentina does not have the rigidity of the ballroom approach with which many of us are more familiar. There is a considerable amount of improvisation involved in the authentic Argentinean version of the tango and so the dance process becomes a physical 'conversation' which unfolds between the dancers.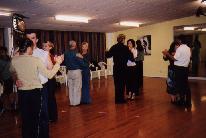 The 'tango conversation' like all communications requires both dancers to listen carefully to their partner. They need to listen to the 'whole body'
communication and be prepared to move in response to each other's needs rather than stick to a physical ritual.
Just like actors in conversation tango dancers need to maintain an interactive pattern of 'listen and respond' … 'listen and respond' so that the journey becomes a shared adventure between the dancers.
Miriam says of the tango - "It's the feeling not the dance."
For those in Auckland interested in learning more about the tango Miriam can be contacted via tangoparadiso@ clear.net.nz
June 2002.
---
< BACK
---
INTRO | ABOUT | WORKSHOPS & CLASSES | TESTIMONIALS | LATEST NEWS | WORKING ACTOR
GREENROOM | DIRECTOR'S NOTES | QUOTARIUM | DIARY | OFF-CUTS | AUDITIONS | CONTACT

---
All contents copyright © The Rehearsal Room unless othewise stated