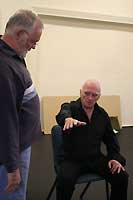 IAN SMITH & IAN ROONEY rehearsing
Richard Sarell, who first worked with Ian Smith on the ABCs serial Bellbirdin the 1970s, is excited about IAN SMITHs contribution to Hobsons Choice. Ian never behaves as a star he is always just a working actor. The generous support he gives to the other actors is wonderful. He has often been quietly watching in rehearsal and applauding the efforts of the other actors. Ians approval is not given lightly and the rest of the cast are really lifted by his support.
Hobsons Choice has a strong cast that are bringing an enormous amount of skill to telling this charming story.
I didnt want it to end,Joanne Wraight said as the lights came up at the end of Sundays performance.