22nd June 2006
Exciting New Workshops
PAUL O'BRIEN "Home and Away" actor and Logie Winner ("Best New Talent") will be at The Rehearsal Room on Saturday 22nd July for the workshop "Serial TV and the Actor".

PAUL will explore –

the audition process (as he experienced it)
serial scheduling and the work load
rehearsal and blocking
shooting a scene

photo by Antony Young
Actors will get the opportunity to play and record one scene with PAUL. Feedback on the work will be given by Paul and Richard Sarell. This one day opportunity to get the insiders point of view of the actors role in serial television is July 22nd from 9am to 5pm. FOR MORE DETAILS...
An Actors Suggestion
After recently performing a monologue an Audition Workshop actor ANDREA MCCANNON wrote … "I feel like I am learning so much at the moment. Pennies are starting to drop, things are starting to fall into place and more importantly I'm starting to learn that those moments when we watch my performance and go 'yes, that was great' can be the norm, because I can relate what I'm seeing on the screen to what I was doing at that moment of performance."
MONOLOGUE WORKSHOP
Monologues expose the chinks in performance process, they require boldness and there are some simple tricks that help make many of these issues easier. SATURDAY 15th JULY 2006 – "How to Manage a Monologue" a one day workshop. FOR FULL DETAILS...
Jules Lund Workshop Post-poned.
| | |
| --- | --- |
| | A one day workshop for TV Presenters with 'Getaway' presenter JULES LUND has been postponed. JULES is currently preparing for 'Dancing on Ice' and recently had a fall, which is slowing his preparation. His current schedule means we need to wait for things to settle down before a new date is fixed. |
CHANGES AHEAD FOR THE REHEARSAL ROOM
A new website is underway and will be on line in a few weeks. One day soon when you visit www.rehearsalroom.com it will look entirely different. SURPRISE!!!
SHOWREELS
CECELIA SPECHT has just prepared her reel for the American market. They need to be …

available on line (so they are immediately available)
not longer than a minute (casting directors wont spend longer than looking at them)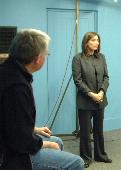 STEVE JODRELL DIRECTS RR ACTORS
McLeod's Daughter director Steve Jodrell is to direct students on the final night of this terms MASTER CLASS. A range of professional TV directors give The Rehearsal Room MASTER CLASS actors the opportunity to broaden their experience at the end of each term. Steve Jodrell met KENTARO HARA at The Rehearsal Room in 2003 and they met again for an episode of McLeod's Daughters which was aired recently. Steve Jodrell, who is also a very capable actor, has directed a wide range of Australian television productions.


A Saleable Commodity for an International Manager
| | |
| --- | --- |
| Every actor is faced with the dual task of building creative skills and building a career. Building a career raises business management issues. But any business manager knows that before a sale can be made its important to have something that's worth selling. ANDI LEW has been steadily working at building her salability. After building her experience as a presenter on radio and in live presenting work Andi has gathered appearances on Channel 7 (Melbourne Women), Channel 9 (Shopping for Love) and now Channel 10 "Beyond the Boundary". | |
Adding Value
All this says ANDI is a saleable product and so its not surprising that she now has an international manager. But its not just what she has achieved that's part of the equation. Its what she's planning, too. ANDI has been writing a book on health and anti-aging and her new manager is interested in publishing the book. Its not only what you've achieved that makes you saleable its what you are working towards that's an important part of the mix. So, keep working.
---
< BACK
---
INTRO | ABOUT | WORKSHOPS & CLASSES | TESTIMONIALS | LATEST NEWS | WORKING ACTOR
GREENROOM | DIRECTOR'S NOTES | QUOTARIUM | DIARY | OFF-CUTS | AUDITIONS | CONTACT

---
All contents copyright © The Rehearsal Room unless othewise stated